EARN 100% COMMISSION
Your "PennyStockProphet.com" Affiliate Link
http://xxxx.jeffed77.hop.clickbank.net
We are absolutely giving away 100% commissions and here's why...
New Customer Acquisitions and building our subscriber base is so vital to our business that it benefits us much more in the long-term to reward you completely!
We know that the affiliate market is competitive with a ton of products to promote, and we don't want to leave any commissions for you on the table.
We know just how valuable our affiliates are in helping us continue to build our audience...
So, we're giving YOU 100% of the money we make in subscription sales and if You Are Thinking Nobody Gives Up 100% of Sales Profits For Nothing then you are right...
We are in the advertising business and third parties pay us good money to market/advertise a company and their product/service to interested subscribers.
It's a Win-Win for everyone!
Affiliates bring in the subscribers that we need to sustain our marketing business, and in return we are happy to give away 100% of sales because the lifetime value of our customer newsletter is very high.
It's that simple!
How does 100% commission work?
Watch This Video To Learn How
To Sign Up For 100% Commissions
If you would like 100% commission, I need you to fill out the form below with your Name, Clickbank ID, and email address.
This form will send a notification directly to me, and I will setup a joint venture agreement with you for you to receive 100% commission on each sale.
Within 24 hours you will receive an email from clickbank.com, directly to your inbox instructing you to accept the agreement.
Please make sure you accept this agreement!
Once you accept this agreement, your account will be active, and you will receive 100% commissions on each sale!
Please Note: ClickBank has nothing to do with our 100% commission payout. Any issues regarding this offer must be addressed with us directly!
To Receive The 100% Payout, All You Need To Do Is...
Use the form below to provide your ClickBank user ID and we'll set up an Affiliate contract right within ClickBank to give you 100% commission.

Add [email protected] to your safe senders list.
Under the action tab in Click Bank, click the Magnifying Glass Icon to get your 100% commission (see below).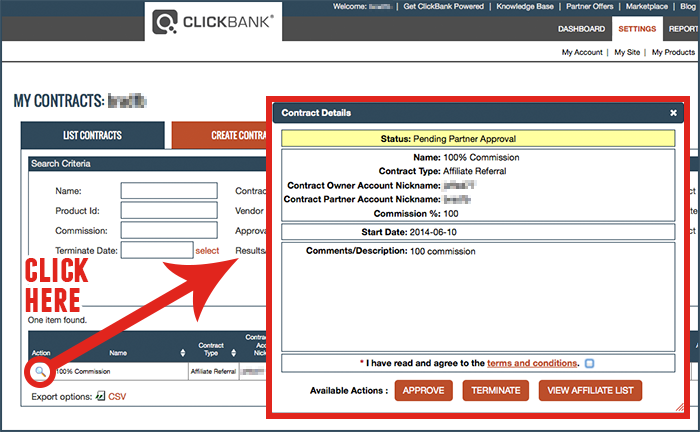 But That's Not All...
Get a $75 Bonus Just For
Being A New Affiliate!*
Join the Top Converting Website on
Clickbank's "Business/Investing" Category!
Your "PennyStockProphet.com" Affiliate Link
http://xxxx.jeffed77.hop.clickbank.net
If You Already Have An Account With Clickbank,
Click On The Link Below & Enter Your Clickbank ID!
What Does It Take To Make Huge Money As An Affiliate? A Top Performing Product Like:
www.PennyStockProphet.com!
Nothing on Clickbank
Even Comes Close!
Are you ready to make serious money?
Our new professionally written sales page is testing at an incredible 9.5% conversion rate, for highly target traffic. Even on non-target traffic we are currently converting at nearly 6.5 percent! We pay our affiliates 100% Commissions! That's $42.47 Per Sale! (Click Bank charges a small fee.)
Our top Affiliate can make over $1,000 Per Day!
Your primary market is anyone interested in stocks, investing and anyone looking to make money from home, by following a simple system.
You can sign up to promote PennyStockProphet.com by visiting Clickbank www.clickbank.com
If you already have a Clickbank account, just click on the link below, put in user name, and you can start promoting immediately!
Once you create a username you will be able to search for Pennystockprophet.com in the Clickbank marketplace. All you will need to do is click on the link that says "create hoplink" and bang! You're in business. You will have an exact replicated link of our website that will track all sales to you.
Sign up for my affiliate newsletter and I will update you on new affiliate contests each month, and will also share with you the secrets to making Serious money as a PennyStockProphet.com Affiliate.
Our Top Affiliates have created traffic heavy review sites that link back to our Main Sales Page with PPC Ads through top converting PPC networks including:
Disclaimer: Google AdWords is not effective for PSP and
similar penny stock newsletter sites.
PPC Keywords
Here are some highly targeted keywords to promote PennyStockProphet.com.
PPC Ads
Here are some pre-made PPC ads to get you started quickly.
Adwords Campaigns
Be sure to change all the destination urls to your hop link so you are credited with the sales.
There are 2 destination URL's to change:
Ad destination url
Keyword destination url
Email Ads
Email marketing is still one of the most effective ways to promote a business. Here are some solo ads for you to use.
Email 1
Email 2
Email 3
Forum Signatures
Forum posting is a powerful no cost method to drive targeted visitors to your affiliate hop link. Before you post make sure the forum allows you to use html signature posts and use the signatures below to get a head start. Also be sure to change the destination url to your hop link.
Banners
We've provided banners to choose from in most common sizes. If you have special requests, please let us know.
$75 Bonus Disclaimer: This bonus offer has been created by the applicable Vendor and not by ClickBank. Accordingly, ClickBank is not responsible for any information contained in the offer, including, but not limited to, any product information, promotions, incentives, expected returns or other information contained herein. In addition, ClickBank is not responsible for any links to third party websites in conjunction with this offer. Such links do not imply any endorsement by ClickBank of such websites or the content, products or services available from such websites. By clicking on or accessing a third party website listed, you acknowledge sole responsibility for and assume all risk arising from your use of any such websites.
$75 Bonus Terms and Conditions
Applies to new affiliates only. Must not have promoted pennystockprophet.com through clickbank in the past.
Must do at least 5 UNIQUE sales.
Yes, you still get paid the bonus if they cancel or refund the order at a later time.
You may not do all 5 sales yourself, using your affiliate id, and then cancel/refund the orders on purpose at a later date.
All bonus payments will be made through PayPal.
To claim your bonus, send us an email at: JAMES (AT) PENNYSTOCKPROPHET.COM with your clickbank id, and your PayPal email address. We will send you the $75 bonus via PayPal within 24 hours.
You may only claim the $75 bonus once. (ie. you cannot get multiple $75 bonuses using other clickbank ids)